Android Users:
Android app is available now on the Google Play store. You can find and download it by searching on the Google Play store or by clicking on this image:
iOS Users:
iOS app is still in development, but we hope it will be available soon. In the meantime, you can add an icon to your Home Screen for quick access to FTW Fitness by following these steps:
Step 1:
Go to train.ftwfitness.com in the Safari app on your device. Once loaded, hit this icon at the bottom of the screen: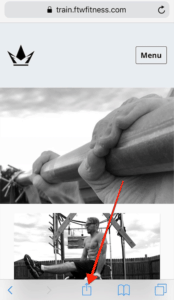 Step 2:
Swipe over the options at the bottom of the menu until you see one that says "Add to Home Screen." Tap that option, follow the prompts, and you can access FTW Fitness just like an app!